Nothing better than the current situation of COVID-19 can show us the importance of healthy lifestyle. Here are 5 cost-free interior changes for better lifestyle by me. After all a better lifestyle doesn't always come with a price tag. So without further ado lets plunge into it:
1. Book and Bottle at your side.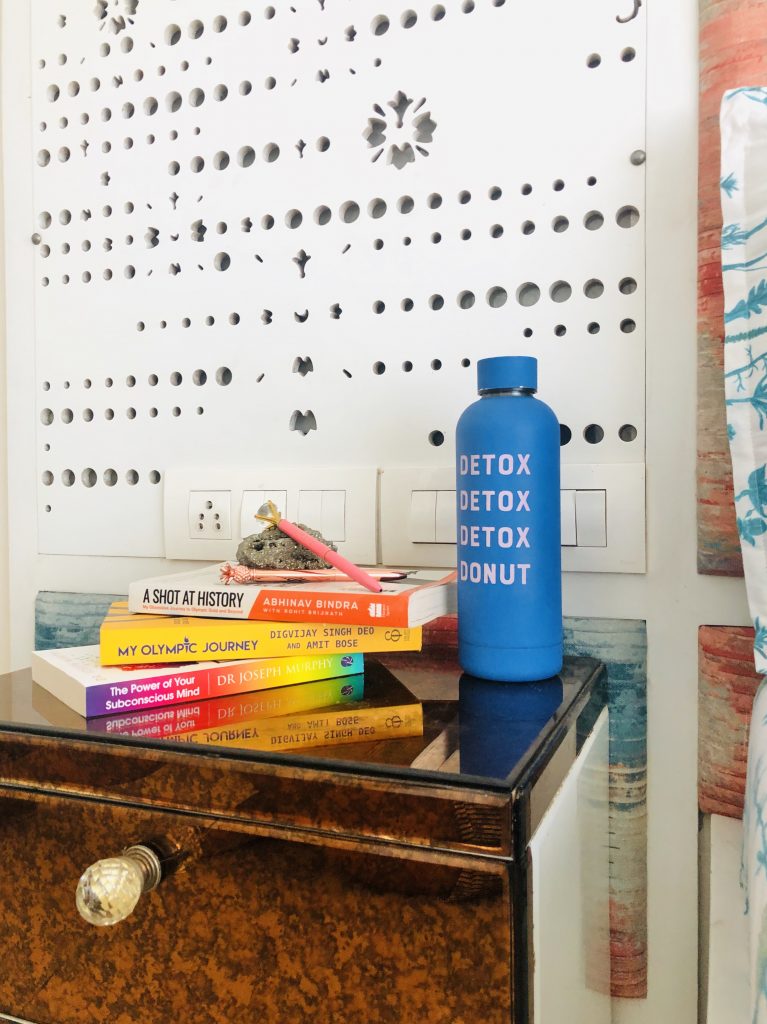 A cute, fancy bottle of water along with a book or a diary is an amazing decor accessory for a bedside table. It adds to the aesthetics of the room along side of giving you the advantages of it. Firstly, a bottle of water will encourage you to drink as often to stay hydrated. Secondly, the book will help avoid procrastination and increase productive. You will be likely to read a book/ magazine or write your thoughts in a diary rather than grabbing your phone during free time.
In addition, just having these items placed at the bedside table acts like a great reminder to 'better lifestyle' every time you enter your room.
2. Clean, clutter-free Kitchen platform.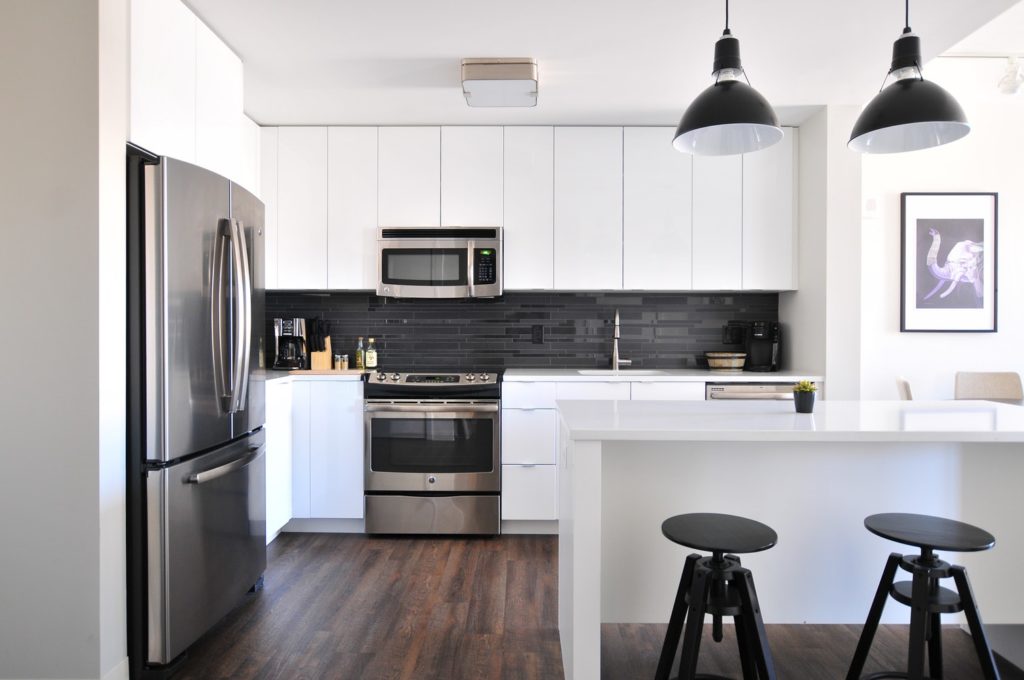 Having a clutter free home has tremendous benefits. To know more you can check out my previous blogs by clicking on them – Why having messy room is not a good idea? and Beginner's Guide to De-clutter Home.
However clean kitchen as specially is even more important for healthy better lifestyle. In India, kitchen is worshipped as our well-being and health is reflected in that room, it is where we cook and get our nutrition from. You should have a routine habit to clean the kitchen platform and cooking range with disinfectant after every meal. Also make sure to do the dishes before going to sleep, never keep the sink full. It will keep the germs and diseases away, specially now when the world is facing the pandemic COVID-19. Do not be lazy at this job at all. Besides that it will give you a fresh start in the morning.
Moreover, according to celebrity astrologer Pallavi Shinde, cleaning the cooking range by yourself every night brings in wealth and prosperity to the owner, as the cooking range represents Agni Devta (God of Fire).
3. Make your bed.
No matter how rough or dull your mornings are, always spare 5 mins to make your bed as soon as you wake up. Straighten the sheet, fold the duvet and arrange the cushions/pillows- it's that easy. Follow this and believe me, it will instantly make your bedroom look so much better and fresher. At this point you can also spray a room fresher, click here for my recipe to make one yourself- 3 Ingredients Room Fragrance Spray. This will give you mental peace and a sense of relaxation when you enter your bedroom next. Also you don't have to worry the entire day about returning to a messy room after work.
Over and above, even if you have house help, I recommend you to do this job by yourself as these 5 mins after waking up will help you clear your thoughts and plan your day making it more productive along side. Also, if you sleep with your partner or sibling make it a house rule for the last person to wake up, to do this task.
4. Have a Tea Coffee Snack bar.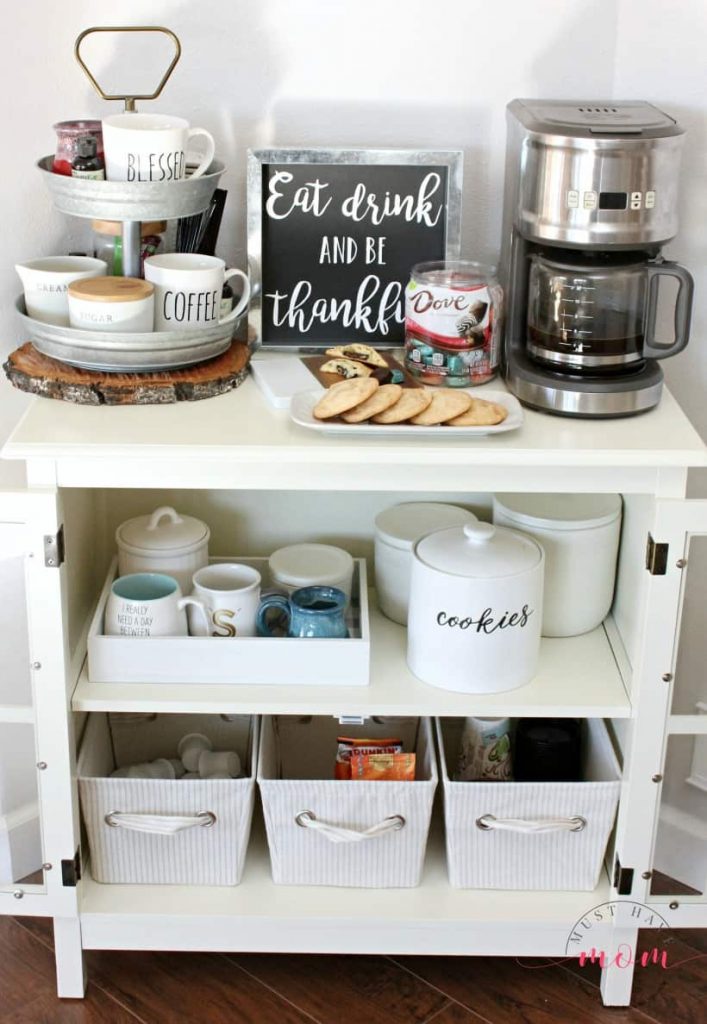 Own a dedicated space or a cupboard in your house for snacks and beverages. This will not only make your house more organised and systematic but also save to lot of time on busy days. Following that, if you are in hurry to work, feeling dull in morning or tired in night, you will know where to reach. It will avoid unwanted hunger or starvation. Stocking it up with nutritious quick bites like nuts, energy bar and super food along with tea and coffee will promote healthy eating in the family as well.
Nevertheless it will allow to you to flaunt your tea set or collection of mugs when guests come visit you for high-tea.
5. Plant at the window.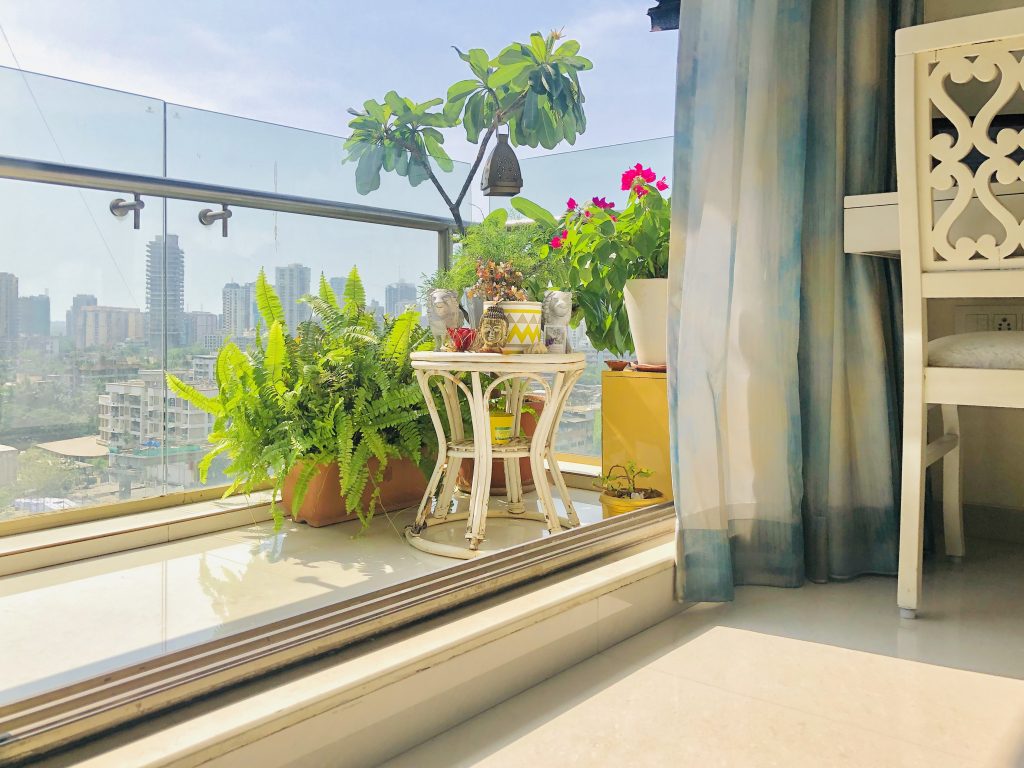 Greenery is a great interior architecture element and plants are beautiful as decor pieces. But more than that, owning it teaches you a sense of responsibility. It does sound easy, however taking care of a muted living object is a very big deal. Also, having a plant placed near the window or in the balcony forces you to open the window every morning letting lot of fresh air and natural light into your house when it is at its best, specially in busy cities. Taking care of the plant and watering it helps you connect with mother nature and soak in some vitamin D which most of us lack these days. To sum up, this activity in the early hours helps positivity flow in your house giving your day a kick-start.
Connecting back, these are a few things my family and I have been following for many years. Comment below if you incorporate any of these changes in your house and life. I would also like to know if you have any interior/ home updates which help in your lifestyle goals. I will definitely give it a try!
Have a happy day!
Prajakta Shinde