Bathroom makeovers can be really heavy on your pockets and if you don't have the budget to give your entire bathroom a makeover, accessories can do wonders!
The right styling will help transform your space into a stylish sanctuary. Today I'll be sharing the tricks interior designers and architects use to create luxurious and welcoming bathrooms that are as stylish at minimal cost. So all the husbands out there, your wife is not going to run out of credit limit this time at least 😉
1. Decluttering
If your sink is constantly cluttered with your lotions and potions, first you should declutter and organise it! To know more go through… beginners guide to declutter. Never the less, if you have been reading my blogs for a while now, you know how important it is and why mess is not good.
2. Think about your style
The accessories are the tool to bring your style to life. So it is important to choose a theme or plan a concept before to go ahead and purchase it. 'Coastal, floral or monochrome are all bang on trends and easy to implement' according to the Good Homes.
3. The finishing touches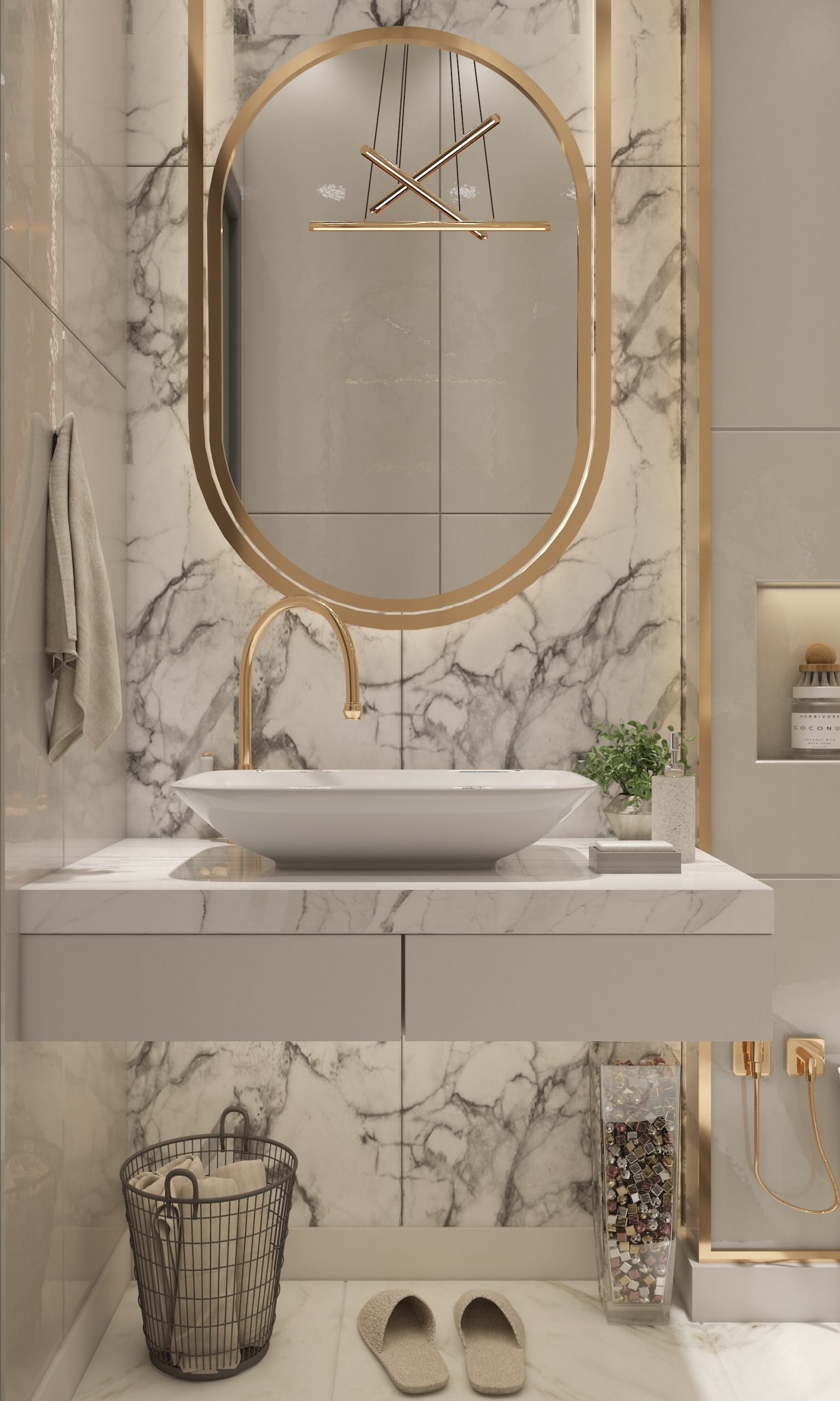 Next step, apply the style of your chosen trend. The fishing touches are what will really bring your bathroom together- they add a new dimension to your space and envelopes you the moment you walk in.
So come instantly transform your space with the following tips and tricks.
a. Light fixtures and hardware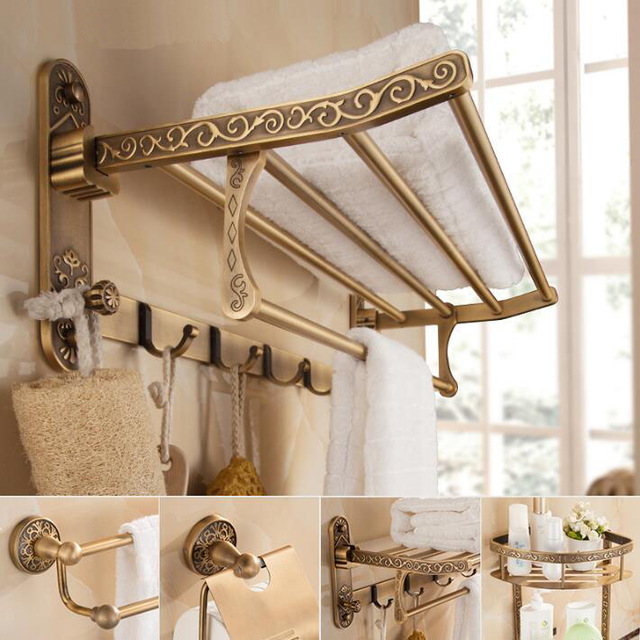 Metal accessories in the bathroom are one of the first things people notice. Swapping out light fixtures, hardware are easy and affordable ways to up your style in a small space. Just create a uniform look by using subtle repetition through style, finish, materials and shape. For instance, I would say a gold or brushed nickel finish is a great idea to bring in a classy look or a black finish for an industrial feel.
b. Mirror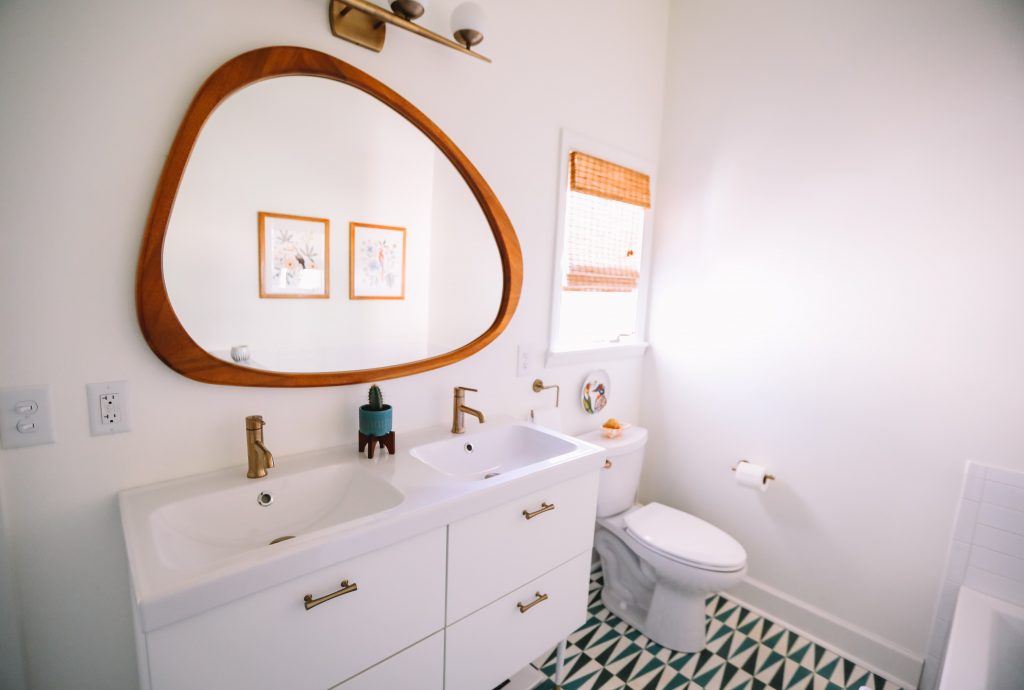 Your mirror likely takes up the biggest amount of wall space specially in small bathrooms. Therefore, give your bathroom a facelift by trading in your old mirror for a new one. My suggestion? I am loving the trend of round mirrors with a unique wooden or delicate gold frame right now!
c. Small Accessories
Accessories like soap dish, soap dispenser, tumblers, and toothbrush holder are all an opportunity to inject colour or add another level of detailing to your space. Thus, think about the other materials that are already present in your bathroom and select accessories that will pair nicely and complement the rest of the room.
d. Candles
No bathroom is complete without a candle, it brings in warmth and a sense of spa. Candles creates an atmosphere around the bath and bring a subtle, relaxing scent to your bathroom. Moreover, one can always experiment with fragrances of the candles. My personal favourite is the Bath and Body Works Rose candle at the moment.
In addition, candle diffusers are a great option to create a mood.
e. Bath linens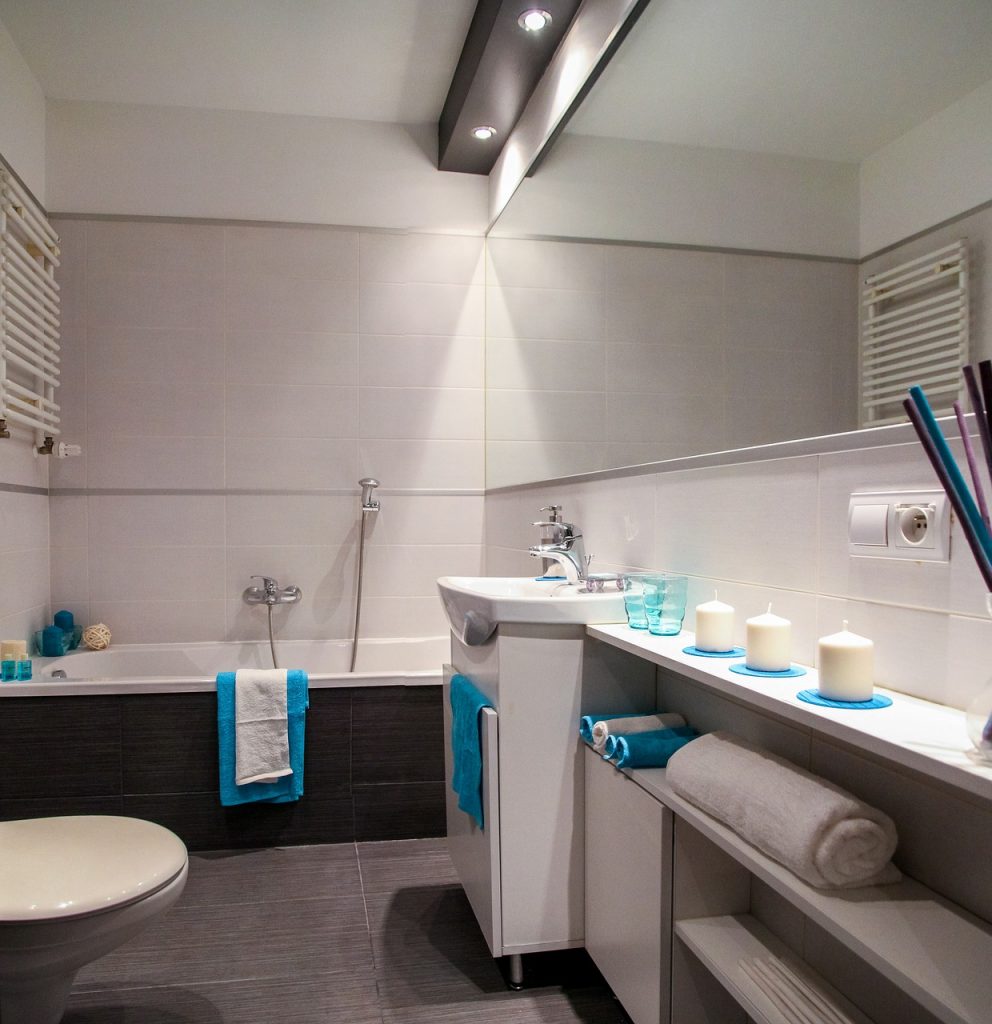 You obviously need towels and most often, they'll be laying out—so they might as well be pretty! You can turn your daily shower or bath into a decadent experience to your bathroom by simply choosing the right bath linens. Pick out a few accent colours for your towels, bathrobes and bathmats which go with your theme.
f. Greenery
Bring life into the space with plants. Whether it a small bamboo plant, a succulent or a stem of a flower, adding greenery in the bathroom space never fails to create a happy and lively vibe. Also no matter what the theme is, a plant is always a good idea!
g. Layer it all
One of the quickest and easiest ways to create a sense of luxury is to layer items. I have used this trick many times in my bathroom styling projects. Stacking a soap dish on top of slightly bigger trivet with a candle and hand lotion or placing rollers of hand towel on a tray with a succulent by its side never fails to create a luxe vibe.
Now that you have gone through the entire blog, comment below your styling tips would love know them and if you use any of mine I would like to see a picture of it.
Prajakta Shinde